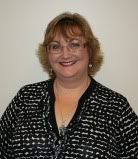 We're talking to Janice Hanna Thompson today. I hope you will enjoy our visit.
Please tell us three random things we might not know about you.
My dad was the president of the University of Houston Cougar Cagers Club, so my birthdays, holidays, etc. were spent at basketball games. Our family traveled to Mexico with the U of H Cougars to watch them compete, which was great fun. When I was eleven, I got to play (for fun, of course) with the Harlem Globetrotters, who came to Houston for a visit. To this day, I love a good basketball game.
I once lied to a fellow camper at church camp, telling her that my dad (Billy Hanna) was William Hanna of Hanna/Barbara (Flintstones) fame. That lie still haunts me, though, to his credit, my dad did eventually work as a movie producer on our co-authored movie, Liar's Moon. (Yes, it's true. I got to meet and work with Matt Dillon. Eat your heart out, girls!)
I occasionally bake wedding cakes. In 2009 I baked a lovely four-tiered white cake with strawberry filling and cream cheese frosting that toppled less than an hour before the wedding. I managed to piece together two very messy/ugly layers. Thankfully, the bride did not murder me. It made for a great scene in a later book. (Nothing ever gets wasted, not even a mashed piece of cake.)
Katt here. I don't know about you, but I'm impressed. What a hoot!
Please tell us a bit more about the plot of Love Finds You in Groom, Texas.
Always the groomsman, never the groom… It's 1914, and Jake O'Farrell has gained an unusual reputation among the locals: He's played the roles of groomsman and best man in all four of his older brothers' weddings, but he's never been able to find the woman to capture his heart. And now with the upcoming wedding of his best friend, Jake will become the last single man in the town of Groom.
Anne Denning has made the difficult decision to move with her sisters to Texas, but a train derailment forces them to seek shelter in Groom, near Amarillo. Mrs. O'Farrell, hopeful that Anne will catch her youngest son's eye, invites the girls to stay at her home until the train is repaired and ready to pull out. Anne has no idea of the blissful chaos that lies ahead!
Why did you decide to write this story?
My editor at Summerside approached me with the name of the town because she knows I write a lot of wedding-themed stories. She wanted something lightweight/fun, and she knew me well enough to know I would enjoy a fun story. The only real question we had in the beginning stage was: "Should this be a historical or a contemporary?" We went with historical because I felt sure the story idea was better suited to the turn of the century.
Tell us something interesting about the town of Groom:
Groom boasts a nineteen-story high cross. More than 100 welders worked together to erect it in 1995. Now you can see why I toyed with the idea of writing a contemporary novel! I wanted to include the cross. Because I went with historical, I decided to give the heroine a small cross necklace to wear, one that symbolizes her faith (and alludes to the "bigger" cross to come).
What is your favorite memory of the Texas panhandle region?
Just one? I love, love, love Palo Duro Canyon, which is not terribly far from Groom. This breathtaking canyon always surprises visitors because you don't see it coming! Look to your right and see nothing. Then, a few yards up the road, look to your right again and you see a crevice forming. That crevice deepens, then deepens some more until. . .lo and behold! You're looking at one of God's most magnificent "sweeps of a fingertip." Truly glorious. One of my favorite memories was taking my daughters to see the play "Texas" in Palo Duro Canyon when they were little. We camped overnight in the state park, ate BBQ and saw the show. Amazing!
What is it about your lead character that will make your readers care about her?
Readers will care about Anne because she's been through so much and still chooses to move forward. They will also love her relationship with her younger sisters. She's the only remaining parental figure and takes that position very seriously.
Where else can readers find you online?
I love to connect with my readers at the following places:
Where can I get the book?
Love Finds You in Groom, Texas
can be purchased at any number of online stores, as well as my website:
www.janicehannathompson.com
(front page).
Readers can always join my VIP bookclub and get the locked in price of $11 (no shipping) by contacting me directly at
booksbyjanice@aol.com.
Thanks for spending time with me! I had a blast!